Young adults can and do get breast cancer. We believe that knowledge and understanding can make us all stronger. We hope these pages help you learn about breast cancer at your own pace—so you can feel more confident and in control of your health.
About Breast Cancer
From diagnosis to staging to the biology of breast cancer and metastatic disease, this is Breast Cancer 101. Learn the risk factors and signs and symptoms of breast cancer, and get the statistics on how breast cancer affects young women differently.
Metastatic Breast Cancer
Metastatic breast cancer is breast cancer that has spread to other parts of the body. Learn what it is and how it's diagnosed.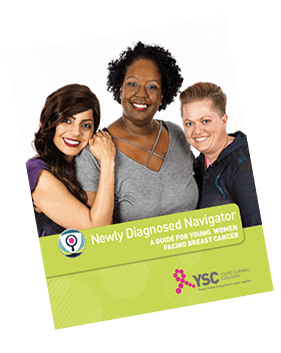 Newly Diagnosed Guide
Created to educate and empower newly diagnosed women, our Newly Diagnosed Navigator helps fight the feelings of fear and isolation that can accompany a diagnosis so that you feel connected, supported and hopeful.