February 9, 1948 - July 2, 2023
On July 2, 2023, the world lost a true innovator in cancer research, Dr. Susan Love.
Dr. Susan Love is probably the most famous person in all of breast cancer, a rockstar if you will. When she walked into the room, everyone noticed that she was there. Susan always kindly smiled at all who approached her and listened attentively to their stories. She cared deeply about all breast cancer patients, even after becoming a leukemia survivor.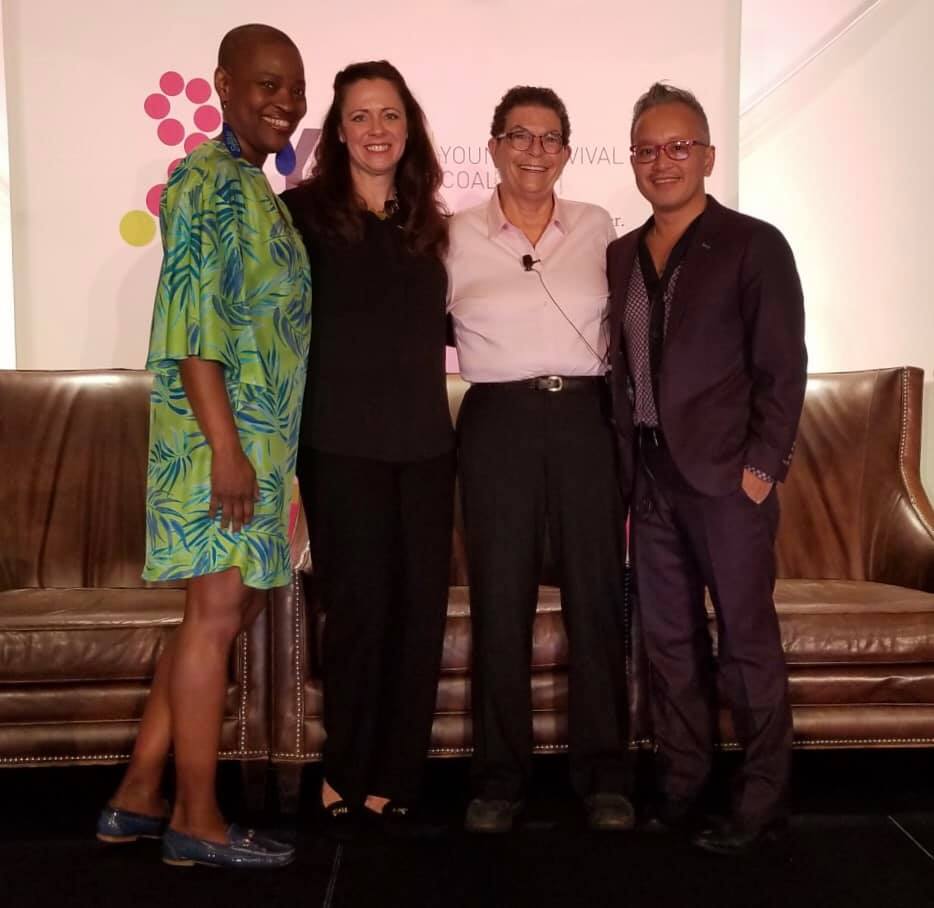 Dr. Love fiercely believed in and supported young adults who were affected by breast cancer. She volunteered on YSC's medical advisory board, spoke at YSC events, and even cheered on YSC Tour de Pink riders!
"I remember the exact moment that I met Susan. It was my first San Antonio Breast Cancer Symposium in 2011. Stacy Lewis introduced us in the convention center hallway. I was captivated by her immediately. Her energy for possible solutions and determination to keep fighting to end breast cancer once and for all.
Over the next 11 years, I was honored to work alongside her and spend countless dinners laughing and dreaming of all that was possible. Susan supported my mother and me throughout our breast cancer decisions and even took the time to study and advise us when my aunt was diagnosed. I will always hold her in a very special place in my mind and my heart.
She believed in me. And I believed in her."
- Jennifer Merschdorf, YSC CEO
Dr. Susan Love will always be part of the YSC community; she is part of our history and foundation. Her commitment to all breast cancer patients will never be forgotten, nor will all that she did for YSC. Susan was a pioneer in both her personal life and her professional life. So many of us looked up to her and learned from her.
"Before my tenure at YSC, I had the privilege of serving as a program director with SHARE, where I had the opportunity to meet Dr. Susan Love in person. It was through extending an invitation to speak at a symposium that I first crossed paths with her. Back in 2007, I was captivated by her profound insights, her remarkable ability to articulate complex concepts in a relatable manner, and her scientific humor that effortlessly engaged the audience. Our conversations at that time centered around the pressing issues of breast cancer disparities and healthcare inequities, igniting a shared passion to collaborate and effect meaningful change for the entire breast cancer community. Since then, my admiration and respect for her have only grown...
There are some individuals whose impact is fleeting, their mark fading with time. Then there are those who leave an indelible, profound, and transformative mark. Dr. Susan Love belonged to the latter category, and her influence touched the lives of countless individuals. Whether it was on the dance floor at a NBCC conference or through her insightful and lighthearted presentations during Alamo Hot Topic Mentor Sessions, Dr. Susan Love made an unforgettable impression. Her unwavering passion for challenging the status quo and pushing the boundaries in breast cancer science was truly inspirational.
I'm simply grateful that I had the privilege of calling her a friend. Dr. Susan Love's warmth, kindness, and genuine care for others made her not only an exceptional leader but also a remarkable human being. Her friendship was a cherished gift that I will forever hold dear in my heart."
- Stacy Lewis, YSC Chief Program Officer
On behalf of the YSC staff and YSC Board of Directors, we send our love and appreciation to Susan's wife, Helen Cooksey, MD, and their daughter, Katie Patton-Love Cooksey, for sharing such an amazing person with all of us.
Dr. Susan Love will forever be missed and cherished by the entire YSC community.